You can sit with us: What Camosun College's clubs life has to offer
Lonely? Bored? Missing doing activities with others? There's a way to fix that, according to those involved with clubs at Camosun College. Being a college club member has had an impact on Camosun students—it's more than just getting together to, say, play video games or talk about psychology. They say it creates a sense of belonging.
As we all try to figure out life as students again here in 2022, that sense of belonging is in demand. So we caught up with those involved with Camosun's club life to find out more about the connections that clubs have to offer.
Building a sense of community
Those who are currently involved with a club at Camosun know the value of the personal connections that can be made at club meetings.
"When I first came here I didn't really know anybody else that was going to Camosun," says Amy Lee-Radigan, who is the organizer of both the Board Games Club and the Video Games Club. "I entered as a bit of an older student… I had kind of missed the peer group that I would have gone to post-secondary straight from high school with, so I didn't really know anybody at first. And getting to know people at CCSS [Camosun College Student Society] kind of just working at WalkSafe and going to clubs and stuff, that was where I really made the first of my friends on campus, so it was very beneficial for me personally, and I would really love to be able to pass that on to others."
Some clubs, like the ones Lee-Radigan organizes, are geared toward outside hobbies or interests, while others are focused on more academic areas. Still, everyone is welcome to join clubs like the Psychology Club.
"You don't necessarily have to be a part of Psychology," says Psychology Club coordinator Ashley Pifer. "Maybe some parts of psychology interest you… If you have an area of focus that you would like to focus on, or know more information about, or that you're interested in, we can bring in guest speakers and stuff in that interested area and they can speak to you and you can learn more about it. There's kind of a variety of topics."
And there's room for new clubs, and people can be as creative as they like when coming up with the ideas. Morgan Maynard, for example, was just starting the Foam Blaster Action Club when I met up with him. Yes, Nerf guns.
"I hope to provide a fun, safe, optional recreational activity for those people who aren't interested in traditional sports," says Maynard. "You're running around constantly, you're ducking behind cardboard boxes, you're doing barrel rolls, it can get your blood pumping like just about… any sport can, but at the same time there's another aspect of knowing and building blasters that really gets into the engineering side and is intellectually stimulating as well, for those who are interested."
CCSS clubs and events organizer Tagg Kelt says that clubs are a great way to meet like-minded students, including other students who you maybe didn't even realize were like-minded. Kelt says that the CCSS is here to help students set up clubs.
"We're sort of ambivalent to what kind of thing you want to organize," he says. "So if you want to start the Young Conservative Party of Canada at Camosun, as long as you can find enough people at Camosun to do it, we're happy to help you do it."
Colleges and universities are a big ocean of unknown territory to figure out by yourself, and that's pretty scary. Now that the world is starting to return to normal, students are able to take full advantage of their college experience.
"Having people on campus and having people around I think improves the overall value of college," says Kelt. "It doesn't just have to be a place where you go sit in a room so that three years from now you can make $29 an hour instead of $17 an hour. It's a big chunk of your life and there's no reason why it shouldn't just be something you actually enjoy doing."
And while COVID-19 easily could have been the end of club life on campus, the clubs at Camosun have managed to persist, or at least come back to life, in 2022.
"I think that especially coming out of so much social isolation over the past couple years, I think a lot of students are very eager to get back into that student-life aspect," says Lee-Radigan. 
Stress-free involvement
Clubs at Camosun aren't always for the pure enjoyment of becoming more sociable with peers. There are three different types of clubs that Camosun students can become involved in. First off, there are common-interest clubs, such as the Video Games Club. Then there are program-specific clubs that aim to support students of programs that are over one year in length, for example the Camosun Nursing Student Collective. There's also a lesser-known category of clubs that are formed for the purpose of a class project.
"The only one we've really managed to fund is this one who was testing the sharpness of skates, some weird study, they were studying the sharpness of skates as it leads to injuries," says Kelt. "They managed to get their faculty to support it and they managed to get a vote on it and they managed to get through all the hoops and I was just like, 'Good for you guys, here's $80 for shipping skates.'"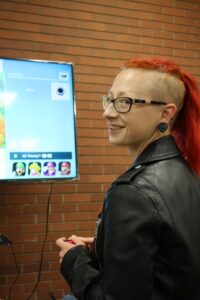 Pifer really likes having a club that focuses on a particular academic field but is open to everyone, not just Psychology students.
"You don't have to belong to something in order to be there, and the wide range of variety in topics and that it's very social for the people that want to be there… I think a lot of people got a pretty good understanding and kind of acceptance within the Psych Club," says Pifer. "I really liked being a part of that. We're all just a bunch of awkward college students just kind of trying to find what we want to do in life."
And sometimes what we want to do in life is live out a classic Nerf gun commercial.
"I was really glad that that Nerf guy showed up because that guy just has all the energy in the world, which is what we need," says Kelt. "He was telling me that him and his pals ran some non-profit one but the gym that they booked they can't book anymore because it got flooded with sewage, so he's like, 'We don't have a place to play anymore,' so I was like, 'Maybe you can play at Camosun.'"
Although there are other ways on campus to spend time, being a club member is a good way to get involved on campus with your limited free time as a student.
"It's definitely not the only way to kind of have that experience and definitely getting involved in the student union and the other aspects of student life is a great idea," says Lee-Radigan. "I'm not trying to say that this is exclusively the only way. I just think it could be if you don't necessarily have time between classes to have an entire other student job and you don't necessarily have time to engage in that way, but you have, say, 20 minutes or half an hour between classes to just come by and hang out and play some video games, it's a pretty accessible and stress-free way to get involved."
Causing effect
These clubs have had an important impact on those involved in an extremely positive way. Maynard's college experience now includes putting himself up for potential rejection from students while trying to get signatures to get his club up and running during the CCSS' Clubs Days event. By the end of his time petitioning for signatures Maynard got 35 people to put their names down: that's a full classroom's amount of students that he spoke with individually and who now he has a connection with. It's that kind of person-to-person interaction that makes clubs worth their members' time.
"We usually do it every Friday and it's only for about two hours," says Pifer about the Psychology Club's meetings. "It's not very long, we try to keep it short but enough time to have the guest speakers that people want to bring in or enough time to collaborate or come up with ideas and get information out for everyone, depending on what they wanted."
Students do get extremely busy but there are mental-health benefits of relaxing and socializing with other students.
"Playing board games together, and definitely playing video games together—because we try to primarily play multiplayer games so that we're having students play together—it's nice, especially if you're feeling nervous about not knowing anyone, I think it's really beneficial to have a shared activity," says Lee-Radigan. "I think it lowers the stress and anxiety of just trying to start up a conversation with a student that you've never met… If you're both engaged in a shared activity then that stress can be lowered because you immediately have something to talk about."
Beyond clubs providing another source of support, or an outlet for students to relieve stress and enjoy the fun of simply wasting away a little time, they also create an opportunity for some students who may not have the same accessibility to opportunities as their peers. Since anyone can create a club with enough support, if there is an activity that a student is not able to pursue due to financial means, creating a club can offer an otherwise unattainable experience.
"We wanted to lower the barrier for people who attend and maybe do things that they couldn't afford to do otherwise," says Kelt. "So, the Video Game Club—video games are expensive, but as a group we can pool some resources and lower those barriers so people can participate in that kind of thing. But, really, it's to improve the lives of students on campus. That's the main goal of having clubs on campus, is to improve their lives on campus and make people sort of want to be there past their academic reasons."
Kelt calls Camosun a "real commuter school," where students come to campus, do their classes, then leave. 
"That was certainly the case when I was a student here and not a lot has changed about that," he says. "And Interurban is an even weirder case, right, because Interurban is kind of far out there, so people really want to get going when they're done. Struggling to have a campus life or activities on campus is difficult but I think it's worthwhile, and I think when we do achieve it students are grateful."
By becoming part of this life on campus the doors to connection are opened easier for club members, and often extend beyond the club.
"I think a lot of aspects of school are stressful," says Lee-Radigan. "So if you can have even just a few minutes of hanging out and playing Mario Kart and just a little bit of rest from that intensity I think it's only going to benefit your day."
Source link